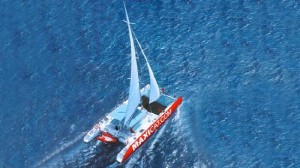 Maxicat Catamaran offers 3 and 5 hours boat trips along the South coast of Tenerife.
With 3 hours boat trip you will go to El Puertito by Callao Salvaje where sea turtles living and the bottom of the sea has unique white color, what creates perfect condition for sea turtles watching while snorkelling. If you don't have your own mask, there are always snorkelling masks on board to use for free. After some half hour snorkelling you will get sandwiches and go to watch pilot whales at very close distance. A lot of pilot whales families are living constantly in the waters of Tenerife, so it is 100% warranty you will see them. Open bar with unlimited soft drinks, water, beer and wine is working along the tour.
In 5 hours boat trip in addition to snorkelling and whale watching you will go by Los Gigantes – along the highest cliffs in Atlantic Ocean to the Masca Bay to swim by isolated beautiful beach and during the boat trip Maxicat Catamaran stuff will serve you a meal and, surely, open bar with unlimited soft drinks, beer and wine is for you.
In our opinion Maxicat Catamaran offers a bit more than other big catamarans, maybe food is not the best, but you have snorkelling and can watch sea turtles, whales and dolphins during one boat trip in Tenerife.
It makes sense.