No matter you came to Tenerife with your own yacht or just chartered it here for a few hours, there are 3 best places to anchor the boat in Tenerife for relaxing on board, snorkelling and swimming. Also these places are one of the best places for diving.
Since the island's quite rocky and here are not so many lagoons waters along the coast of Tenerife become extremely deep almost right by the shore, but there are still nice lagoons and places to anchor your yacht.
Nr 1 – EL PUERTITO LAGOON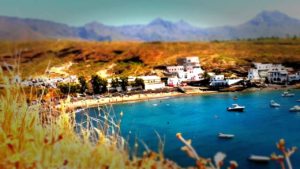 The beach of El Puertito is located aside of crowded resorts of the Southern Tenerife nearby Armeñime village between bigger resorts as Playa de San juan and Costa Adeje. This lagoon is famous of it's rich sea life and especially sea turtles. Just 2 years ago there were living family of giant green turtles and the lagoon was very popular destination for snorkelling tours in Tenerife, mainly because the sea turtles. Unfortunately, 2 years ago crazy Russian tourists killed 2 biggest turtles and third one was seriously injured and that was the end of snorkelling many local business, organizing snorkelling tours in El Puertito. Well, it still beautiful lagoon with rich sea life and one of the best places to anchor your boat here. The waters of El Puertito are clearly crystal and sea bottom is white what's make it perfect for snorkelling.  Municipality of Adeje trying to keep El Puertito as a micro reserve of natural sea life developing a project of conservation, investigation and environmental education recovering the lagoon sea bottom which was also seriously injured by invasion of Black Sea Urchin.
Nr 2 – MASCA BAY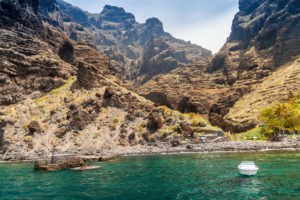 Counted as the totally wild beach the Masca Bay is located on the middle of Los Gigantes cliffs at the end of the Masca Canyon and there are only 2 ways to get to the beach. One way is to take longer boat trip or a private charter – here we can highly recommend the Big Smile Luxury yacht with its 6 hours long shared charter. The other way is to join a Masca Canyon Trekking Tour with Boat Trip – in this case you will get by extremely curvy road to the Masca village and the walk down along the Masca Canyon approx. 4 hours to swim on the beach and take a boat trip to see whales and/or dolphins. Masca beach is characteristic with its black volcanic sand and it's perfect idea to refresh in the clear waters of Masca bay after hours of descending through the beautiful canyon. Once you get from the canyon to the sea level, please, turn left and walk a bit to find the Masca beach with beautiful black sand – the other parts of the coast along the Masca Bay are covered with stowns. By the Masca beach here's also a small pier where just one boat can dock for a while to pick-up people from the beach or in contrary – let them go to the beach. Anchoring boat by the Masca Bay it's a beautiful experience also because the scenery of the Los Gigantes cliffs surrounding Masca Bay – the highest cliffs in Atlantic Ocean – it's definitely worthy to see.
Nr 3 – PALM MAR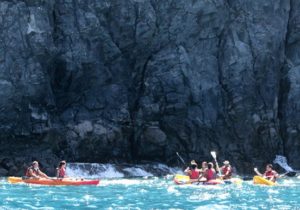 Another beautiful location to anchor your boat is to stop right in front of the Playa de la Arenita in small cozy Palm Mar town – located after the cliffs and Los Cristianos. There's no sand beach, but the scenery is extremely wanderful, waters are blue and veiews incredible. Moreover, there are fish farms settled in the open ocean some 300-500 meters from the shore and, because the fish farms, so there are high chances to see a lot of fish, dolphins and sea turtles looking for easy to get food. The area around Palm Mar it's also one of the best destinations for the diving tours in Tenerife.