Tenerife Host offer's basic catering included into the charter's price on every our yachts and catamarans.
The basic catering include:
Sandwich (if you have vegetarians in your group, we will prepare special sandwiches for them)
Limited open bar with (till the drinks will finish): beer, wine, soft drinks.
You don't need to pay for the basic catering option chartering a boat for a private charter with Tenerife Host. The basic catering option always is already included in the boat charter price.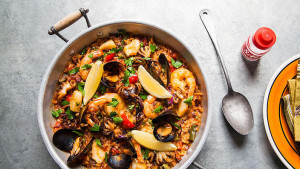 The extended catering include:
Paella (you can choose among fish paella, meat paella or mixed paella (if some people from your group do not eat seafood and meat, we will serve them vegetarian paella with vegetables).
Unlimited open bar: beer, wine, cava (Spanish sparkling wine) and soft drinks.
The cost of extended catering depend on the size of your group and is set individually for every group.
If you are chartering one of our boats in Tenerife, we can also prepare customised catering based on your special wishes – just tell what do you wish to have, booking your private charter.